Sod Variety: Overseeded Celebration
Cut: Big Roll
Square Footage: Approx. 25,000 Sq. Ft.
Timeframe: 1 Day
Farm: A-G Sod Farms – Fresno
The team at A-G Sod Farms – Fresno recently worked with local Kingsburg, CA property owners that wanted to convert a piece of land into a multi-use sports field for community use. The field's playing surface turned out beautifully with the help of our quality turf.
Surrounded by a beautiful landscape of trees, the field sits nicely within its backdrop. Kids from local community sports teams, along with a local church will have access to play on the field.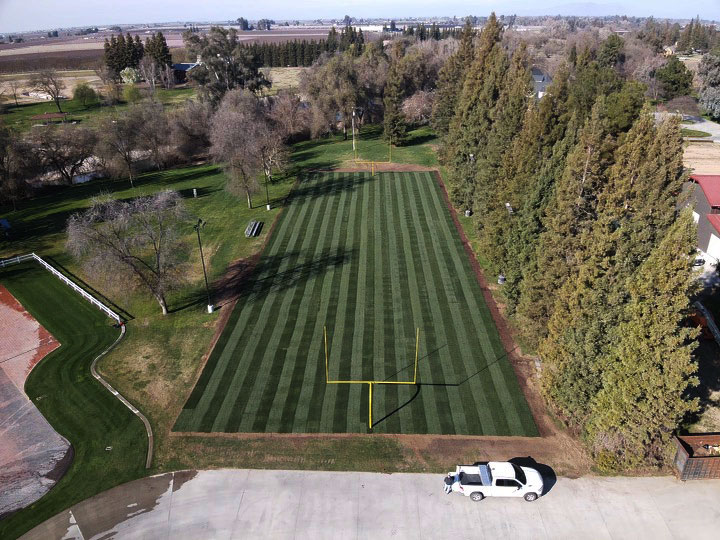 This project featured approximately 25, 000 sq. ft. of overseeded Celebration. This is an improved Bermuda grass which delivers durability, exceptional recovery, softness, and beautiful color. A great choice for this project, it can be found on many high school, college, and professional sports fields. It is also a water conservative grass.
Thanks to our two A-G crew members, two employees from Briner & Son, and the A-G Big Roll, the job was completed in just one day. The use of Big Rolls can drastically speed up the installation process for any project.
"Our Big Rolls are really the way to go for any big project. The amount of time we save on projects by using this cut is substantial. And customers are happy because these cuts allow them to utilize the playing surface in a shorter period of time" says A-G Sales Representative, Alec LeMay, who helped with the installation.
The project was a success and resulted in a beautiful field for the community to enjoy and stay active.